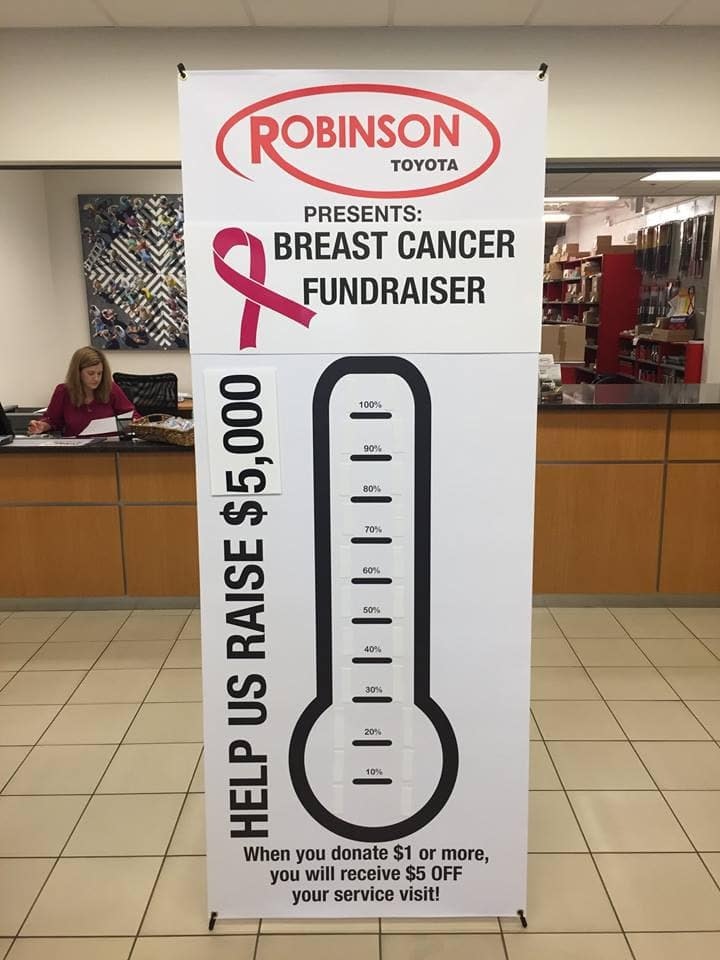 Robinson Toyota is Raising Money for Breast Cancer Awareness!
Robinson Toyota is Raising Money for Breast Cancer Awareness!
As you most likely are already aware of, October is officially known as Breast Cancer Awareness Month. Here at Robinson Toyota, our staff members and customers alike are working together to help raise money to support increasing awareness of breast cancer. Because when we all work together, we can be strong together.
Clearly on display in the picture above, the goal for our breast cancer fundraiser throughout the month of October is $5,000, and we certainly hope that together we can all surpass this number. At our dealership located here in Jackson, TN., we are selling bright pink "Strong Together" tee shirts. All of the proceeds that we make during October will go directly to this wonderful cause. If you purchase one of these shirts or make a donation of any amount, we will knock $5 off of your next service visit as our way of saying thanks!
We welcome our customers throughout the Jackson, Dyersburg, Humboldt, Lexington and Milan areas of Tennessee to visit us at Robinson Toyota to make a donation or buy a shirt for breast cancer awareness this month. One donation or tee shirt at a time, our dealership wants to help make a difference in people's lives.
People are strongest when we are together, and we sincerely hope that you join us in this fight against a disease that has touched so many of our lives. Please give us a call at (877) 425-3120 if you'd like to learn more or inquire about making a donation!
Back to Parent Page